Body count: 11
plus an innocent mailbox
This movie really has nothing going on, and for that, it's a masterpiece. The entire plot is as simple as a Teletubbies episode:
Boy meets gun...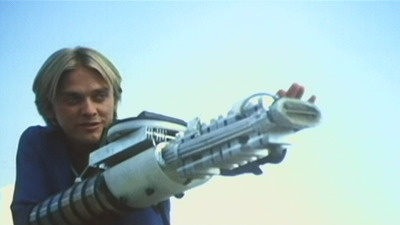 Boy uses gun...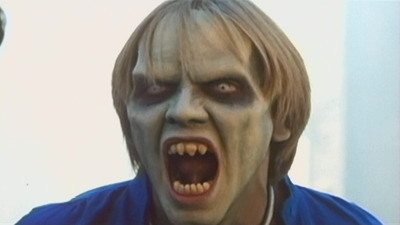 Boy becomes a rampaging psychopath that's soon destroyed by shell-less turtle creatures from the reaches of space.
It's such a juvenile premise that I applaud the people who paid for its production. But the applause stops quick when considering that one of those people is Charles Band, who was behind some of the best late '70s/early '80s low-art movies I've ever seen (TERROR VISION, THE DAY TIME ENDED, TRANCERS) but threw it all away to found the rancid Full Moon Entertainment and churn out enough PUPPET MASTER sequels to castrate the value of direct-to-video horror forever. The gentlemanly Mr. Band was in Austin in the fall of '06, where -- at a screening of his 3D epic PARASITE -- he kicked off the Q&A by telling a room full of people that he'd boned one of the actresses in the film.
Class.
I guess I should be content that, before his value had dessicated like a mummy's blood, he managed to knock out some enduring jams like this one. The first time I saw LASERBLAST was in 1982. I was 7 years old and watching TV at my dad's girlfriend's house. She had a punk teenage son who was a real buttwad and he often made me watch scary movies in an attempt to traumatize me. LASERBLAST backfired and I was completely head over heels for it. The stop-motion alien beasts...the performance from King Eddie Deezen as the spastic, rape-enabling Froggy...and OF COURSE the relentless power fantasy of taking down all who opposed you. As a tortured fat kid, Billy Duncan became my new personal totem animal.
Anyway, reminder again that at least the next four Weird Wdnesdays and Terror Thursdays will be back in the BIIIG theater where the biggest pile of fun can happen. Hope to see you there.
Stay blood,
Zack, TT